Reserve Your Holy Land Experience Today!
Upcoming Pilgrimages 2023
2023 Spiritual Exercises in the Holy Land - A Destination Retreat
Like a destination wedding, come to a destination retreat! You are invited to a unique and powerful encounter with Jesus Christ! Experience the Holy Land through the lens of Spiritual Exercises, as we retrace Jesus' footsteps...praying where he prayed and seeing what he saw!
See below for more details.
10 Day Trip: Sep. 2-12, 2023: The Holy Land: A Pilgrimage Encounter with the Lord
SOLD OUT! 9 Day Trip: Jul. 1-10, 2023: Holy Land Pilgrimage with Fr. Daniel Pajerski, LC
Holy Land Pilgrimage with Fr. Daniel Pajerski, LC
Dates: July 1-10, 2023
Price Per Person (NOT including airfare)*:

Double occupancy: $2,815 per person
Single occupancy: $3,395 per person
*A deposit of $500/person is required by March 15th, 2023 to be registered for the pilgrimage. Checks should be made payable to Our Lady of Bethesda Retreat Center.

The above rates include:

 8 nights accommodation and all meals (Beverages at meals not included).
English speaking guide as per your program.
Deluxe transportation as per your program.
All entrance fees as per your program.
Porterage fees at all hotels.
Audio guiding system.
Tips for guide, bus driver, hotels and restaurants.
Farewell dinner at the Wine & Cheese Restaurant at the Notre Dame of Jerusalem Center
For more information, download the brochure.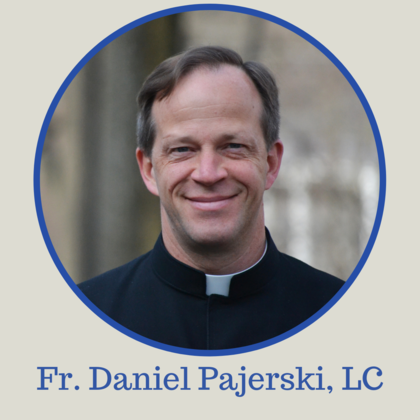 Fr. Daniel Pajerski, LC
A native of Raleigh, NC, Fr Daniel felt the call to become a priest early in high school but only decided to pursue the path while in college.  After graduating from NC State University with a degree in Chemical Engineering, in June of 1994 he entered the Legionaries of Christ seminary in Cheshire, CT.  His formation took him to Connecticut, New York, Rome, São Paulo, Brazil, Dallas, and then back to Rome where he was ordained a priest on November 25, 2004.  In the summer of 2005, he was assigned to work at Everest Collegiate High School and Academy in Clarkston, MI where he oversaw the faith formation programs for the students, faculty, and parents.  God blessed him with over thirteen years of service there striving to help students and families to get to know Jesus Christ and their Catholic faith better. In his free time, Fr Daniel keeps in shape mainly through running and is a 7-time marathoner, including two Boston marathons.
SOLD OUT
For more information about the Pilgrimage and to book, please contact:
Fr. Daniel Pajerski, LC: [email protected]