Special Guest Speakers & Events

Upcoming Special Guest Speakers
February 25, 2023
Special Guest Speaker Event
Finding Peace Through the Hardship of Miscarriage
Speaker: Deacon Gerard-Marie Anthony 
7:00-9:00 PM
The evening will begin with the Sunday vigil mass and include light refreshments.
Have you or a loved one experienced a miscarriage or the loss of a child? This loss leaves wounds in a family, not only physical, but also emotional and spiritual wounds. Join us for an evening with Dcn Gerard-Marie Anthony.
Registration fee: $20 per person. 
---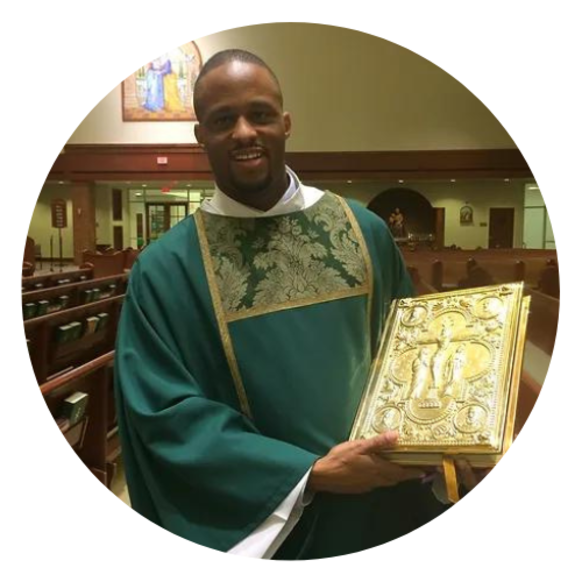 Gerard-Marie Anthony is a theologian, author, apologist, and religion/bioethics teacher and worked with teens and young adults for over 20 years. He is a long-time member of the world's largest lay apostolic organization, the Legion of Mary and a board member of The Mother of Light Center which brings the love of God to the poor and forgotten in society as well as A M.O.M.S Peace which brings comfort to mothers/families who are experiencing miscarriage or stillbirths. In his spare time runs an apologetics website now found at www.jmjgerardmarie.com (formerly www.gerardmarie.com). He also is a member of Black Catholic Ministries and Evangelization board for the Arlington Diocese. Deacon Anthony also gives talks for people of all ages including Young adult groups, Confirmation retreats, and adult education.
His book: The Deacon and the Doctor, A Prescription for Navigating Child Loss provides a spiritual, medical, psychological guide to help families find peace after child loss. As one in four women experience miscarriage, it is essential to provide resources, bring awareness, and teach the community how to engage appropriately so these families are supported properly. Our hope is this book will help families and the community navigate the many obstacles encountered after child loss.
Some of Our Past Guest Preachers and Presenters
Our Lady of Bethesda periodically hosts Special Guest speakers and workshops addressing current issues in the culture and facilitating an understanding of the teachings of the Catholic Church, especially those regarding marriage and the family.  Some of our past speakers include:
Fr. Mark Haydu, LC
Fr. Jacques Phillipe
Fr. John Bartunek, LC
Jennifer Ristine
Ryan Anderson
Steve Wagner
Dr. Jennifer Roback Morse
Fr. Emmerich Vogt, OP
Bill Bennett
William Peter Blatty
Fr. Benedict Groeschel, CFR
Senator & Mrs. Rick Santorum
George Weigel