Evenings of Reflection for Men
Discover tools to become a stronger leader in your Church, your parishes, and your home.
Hybrid Retreat Offering
In-Person & Virtual Options
This year, you have the choice of gathering with the guys, in-person, or attending remotely via Zoom. In-person attendance will be limited by local mandates, so you must register to attend.
Start Times
In-Person Reflection begins with mass at 7:00pm
Virtual Reflection begins with the meditaion at 8:00pm. Please log into ZOOM by 7:45pm to allow time to troubleshoot connection issues.
See below for more details about the schedule.
As for Me and My House...
Dates/Topics
Register to Attend In-Person
Register to Attend Virtually

Lent
Mar 3, 2021:
Laying The Foundation, Part 2 - The Commitment To Christian Brotherhood

What does it mean to be brothers with my fellow men?  The early Church lived this theological reality and it is vital to reignite this reality in our Church today!

 

 

Easter Season
Apr 7, 2021:
Laying The Foundation, Part 3 - The Commitment To Hospitality and Service

Hospitality and service are critical virtues that can enable a true revitalization of the Church. How can we live these virtues in our dealings with fellow parishioners, as well as those outside our parishes, who may desperately need an encounter the person of Christ?

May 5, 2021:
The Front Door - Sacraments As Our Greatest Pastoral Opportunity

How do we return the sacraments to their proper glory and build a relationship between God, man, and His Church?  We will explore how to inspire those in our lives who have fallen away to returen to the sacraments and help them become active members of the Church.

Jun 2, 2021:
Leader Of The House - Supporting Your Local Pastor

If the primary crisis in today's Church is one of identity, then a second crisis is one of leadership. How can we support our Church leaders?  
Below you'll find the respective schedules for each format. We strive to adhere to these times.
In-Person Schedule
Virtual Schedule

7:00-7:30 pm  Mass

7:30-8:00        Dinner

8:00-8:30        Directed Meditation

8:30-8:45        Time for personal reflection & prayer (silence)

8:45-9:15        Conference

9:20                Farewell, Announcements 

9:30                Depart

 

7:45 pm        Log into Zoom

8:00-8:30      Directed Meditation

8:30-8:45      Time for personal reflection & prayer (silence)

8:45-9:15      Conference

9:20              Farewell, Announcements 

9:30              End of Session

 
 
Minimum Contribution
In-Person Reflections: $20 per person
Virtual Reflections: $10 per person
Generous contributions made it possible for us to offer virtual retreats during the Coronavirus shutdown, helping to cover additional technology costs, fixed on-going expenses and our ability to support our priests.  However, if money is an issue and you need financial aid to attend, please contact us to discuss options. We are trusting in the generous support of many to enable us to provide retreat experiences for anyone regardless of financial ability/resources.
In addition to registering for this event, you can donate in three ways:  
Venmo to @OLBinDC
Credit card on our donation page
Check addressed and mailed to :
Our Lady of Bethesda Retreat Center
attn: President
7007 Bradley Blvd
Bethesda, MD 20817
Season Finale 6/3/20
Past Men's Reflections Series
July 2020~ Part 1: Crisis As Opportunity
Preacher: Fr. Daniel Pajerski, LC  | Speaker 2nd talk: Bob Cohn
August 2020~ Part 2: Holding Onto Your Treasure
Preacher: Fr. Peter Hopkins, LC | Speaker2nd talk: Charlie McCullough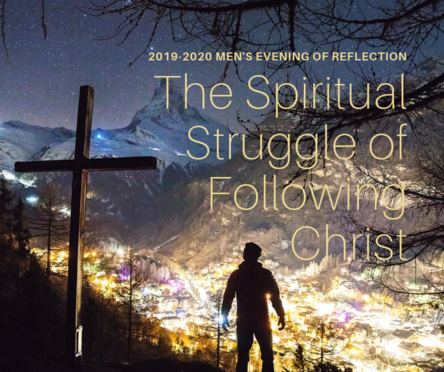 Sept: Pride vs. Humility  Preacher: Fr. Daniel Pajerski, LC
Oct:  Envy vs. Generosity  Preacher: Fr. Peter Hopkins, LC
Nov:  Greed vs. Gratitude   Preacher: Fr. Charles Sikorsky, LC
Dec: Preparing for the Coming of Christ  Preacher: Fr. Peter Hopkins, LC
Jan: Lust vs. Purity  Preacher:  Fr. Robert Presutti, LC
Feb: Gluttony vs. Temperance Preacher: Fr. Peter Hopkins, LC
Mar: Lenten Reflection: To Walk Beside Christ  Preacher: Fr. Peter Hopkins, LC
April: Sloth vs. Militancy Preacher: Fr. Daniel Pajerski, LC              
May: Anger vs. Meekness Preacher: Fr. Peter Hopkins, LC
Jun: The Sacred Heart of Christ, Our Best Defense  Preacher: Fr. Peter Hopkins, LC